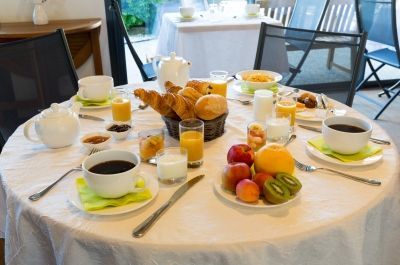 RESTAURATION
BREAKFAST
A rich buffet is waiting for you in the breakfast room or under the covered courtyard facing the swimming pool ... many organic and organic products ... Dammann and Bio teas, organic chocolate, coffee, delicious jams and cereals Fresh fruits from the market, cheese platter, cold meats, eggs, local breads, Viennese pastries ... to get off to a good start and to ride a good walk or bike ride!
CATERING
We will recommend you restaurants in the surroundings and book for you, according to your desires of the moment ...
TAKE AWAY
We offer a selection of hot and cold dishes, as well as ice cream and desserts.
=> PLATS CUISINES « Val de Luce »
Gaspacho
Soupe Vénitienne
Blanquette de volaille au risotto
Parmentier de canard confit
Chili con carne
Marmite du pêcheur
Salade Océane
Salade Gourmande
.
=> PATES « Pasta Box »
Pâtes Bolognaise
Pâtes Saumon basilic
Pâtes Carbonara
.
=> DESSERTS
Compote de pomme « Coteaux Nantais » bio
Yaourts aux fruits
Fromage blanc, sucre bio, miel bio ou confiture bio
Tarte citron meringué
Cœur fondant au chocolat
Tartelette fine aux pommes
Bocal Baba au Rhum « Val de Luce »
.
=> GLACES
Push up
Ben et Jerry's Cookie dough wich
Ben et Jerry's Fairy nuts
Ben et Jerry's chocolate fudge
Ben et Jerry's cookie Dough
Ben et Jerry's Vanilla pecan Blondie

Read more
+
Less
-